Preproduction computer-generated image shown throughout. Starting spring 2022.
100% Electric. 100% F-150 Lightning.
You already know the F-series is America's best-selling truck for 44 years* for a reason. Now, make way for the future with the all-new, all-electric 2022 F-150 Lightning™ truck. The Lightning comes equipped with an array of connected, intelligent features with Ford Power-Up software updates to help ensure your truck keeps evolving with you, over time.
*Based on 1977-2020 CY total sales.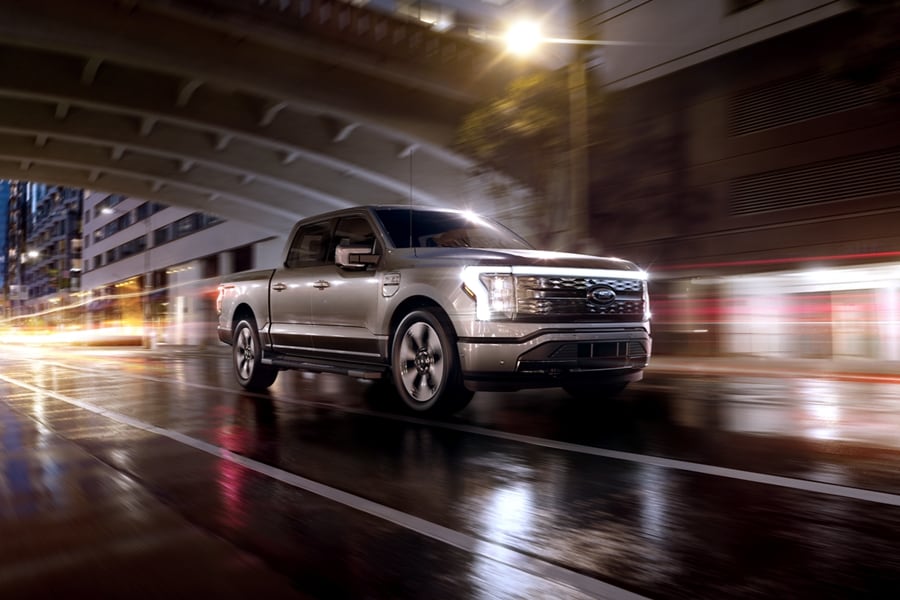 100% ELECTRIC
We went beyond building an all-electric F-150. We created the smartest, most connected F-150 Ford has ever built, packed with all of the advantages that zero-emissions propulsion offers - from nearly instantaneous torque to Ford Intelligent Backup Power, connected services to intelligent range, it's a strong, capable look at what's to come.
*Visit fueleconomy.gov for more information.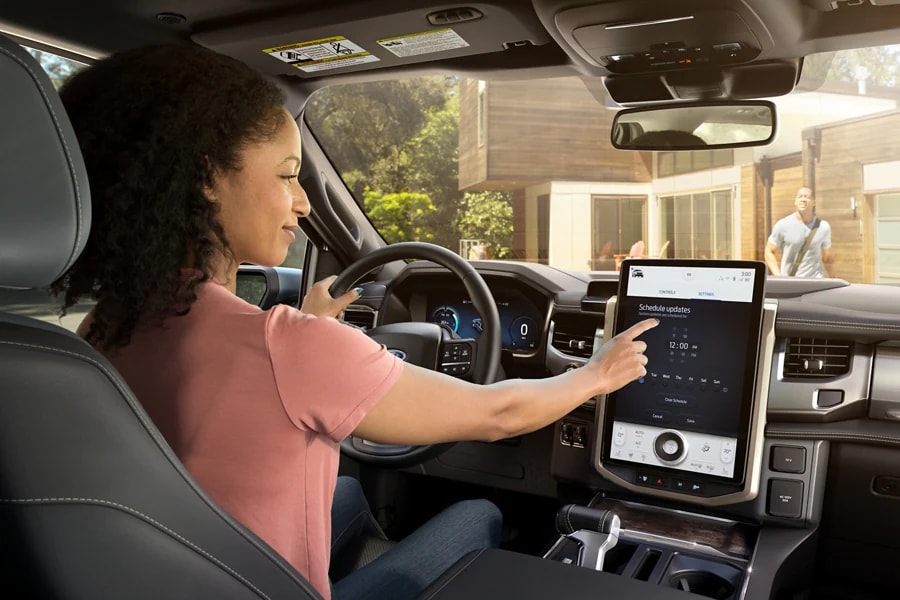 ADVANCED TECHNOLOGY
We've created a wide array of advanced technologies that can help improve the performance of your truck and your business. Including over-the-air Software Updates, powerful charging solutions and FordPass™ Integration that not only allows remote access to your truck and communication with the Ford Connected Charge Station and the Ford Charge Station Pro at home for seamless access to public charging.*
*At purchase, the FordPass Connect modem is connected and sending vehicle data (e.g., diagnostics) to Ford. To disable, or for more information, see in-vehicle connectivity settings. Learn more at FordConnected.com.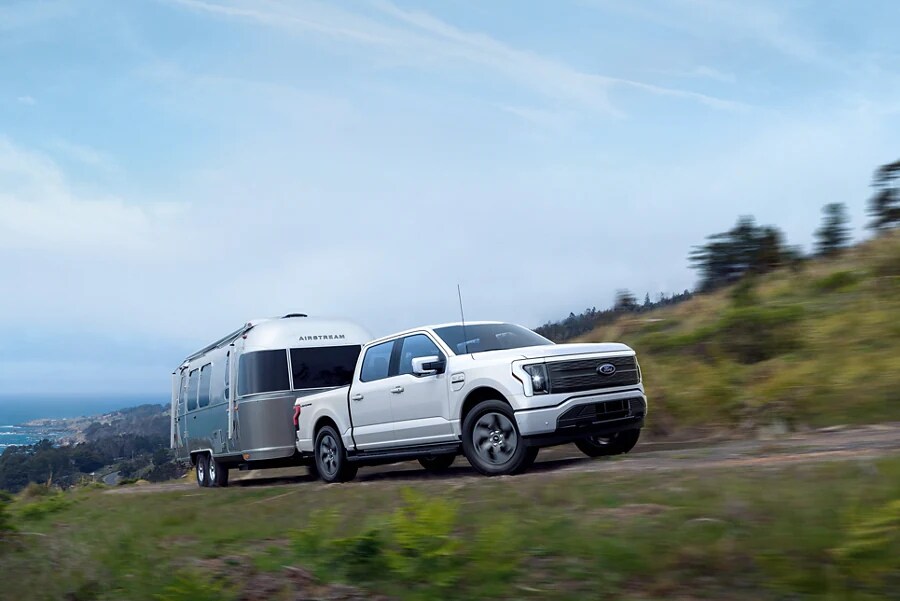 BUILT FORD TOUGH
The all-electric F-150 Lightning is a purpose-built, must-have truck for serious work and recreation. And because we take the words "Built Ford Tough" seriously, we torture-tested it and put it through the same paces that all F-150 trucks go through. So you can be confident the F-150 Lightning will live up to the standards you have come to expect from F-150.
FORD INTELLIGENT BACKUP POWER
Be prepared for what nature throws at you with the 2022 Ford F-150 Lightning. Available Ford Intelligent Backup Power, enabled by the 80-amp Ford Charge Station Pro, allows you to use your truck as a backup power source to your home during a power outage. * The power transfer can be triggered automatically or manually based on customer preference.
*When home is properly equipped and home transfer switch disconnects home from the grid.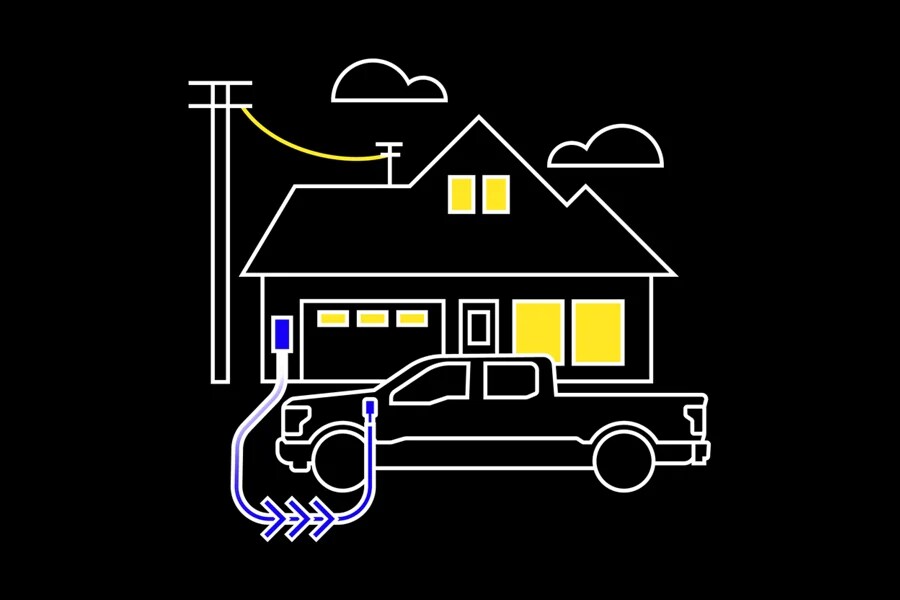 TRUCK CHARGES UP
You get home and plug in your truck with the available 80-amp Ford Charge Station Pro. The F-150 Lightning charges using power from the grid.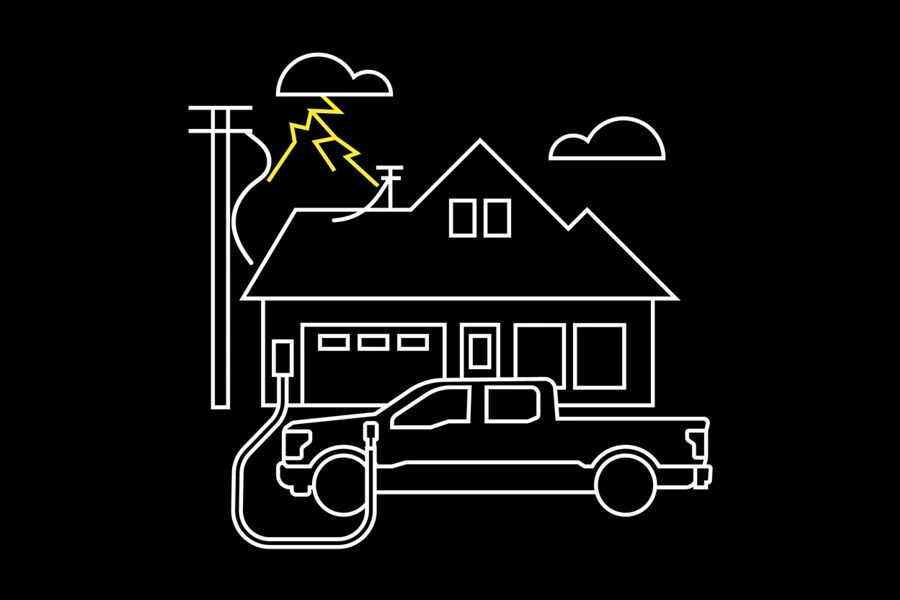 GRID GOES DOWN
But what happens when the power gets knocked out by a storm? No problem. The Ford F-150 Lightning is there to help. You can set Ford Intelligent Backup Power to automatically or manually kick in and power your home just like a generator. *
*When home is properly equipped and home transfer switch disconnects home from the grid.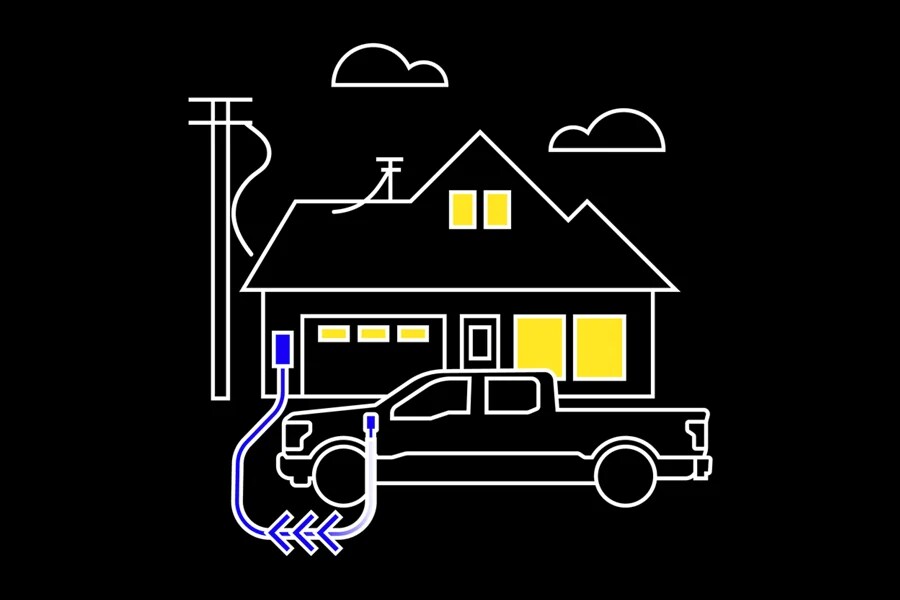 F-150 LIGHTNING GOES TO WORK
With the ability to off-board up to 9.6 kW of peak energy, F-150 Lightning can provide full-home power for up to three days, or as long as ten days if power is rationed. *
*When home is properly equipped and home transfer switch disconnects home from the grid. Based on 30 kWh use per day using the F-150 Lightning with the extended-range battery. Your results may vary depending on energy usage.
TWO BATTERY OPTIONS THAT HELP PROVIDE THE RANGE YOU NEED
F-150 Lightning™  has your back with a choice of two innovative and powerful batteries, whether you're driving around town and going to work, or need some extra juice for extended adventures or heavy hauling.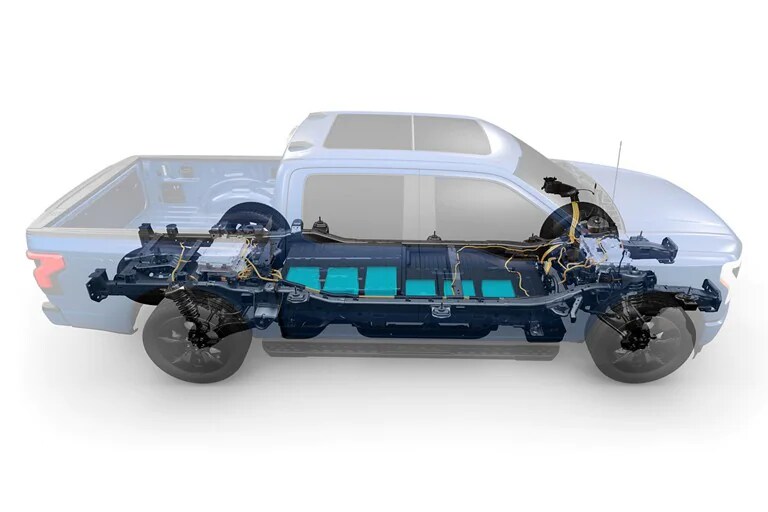 EXTENDED RANGE BATTERY - 300 MILE RANGE
The available extended-range battery offers XLT and Lariat models a targeted EPA-estimated range of 300 miles, while the Platinum model achieves a targeted EPA-estimated range of 280 miles.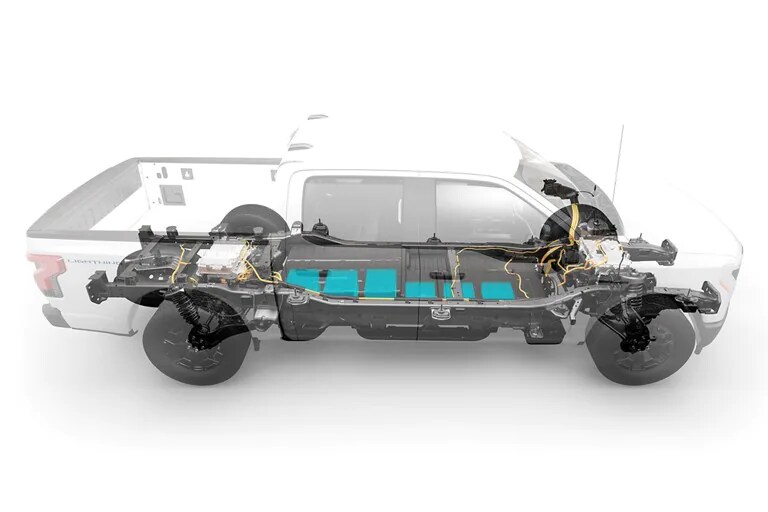 STANDARD RANGE BATTERY - 230 MILE RANGE
The standard-range battery offers a targeted EPA-estimated range of 230 miles.
CHARGING YOUR LIGHTNING
Charging at home is fast and easy with the 80 amp Ford Charge Station Pro. Standard with the F-150 Lightning™  Extended Range, it powers up to 30 miles of charge per hour to provide a full charge overnight. Our preferred partner Sunrun, America's leading solar panel and battery storage company, provides seamless installation to power you up.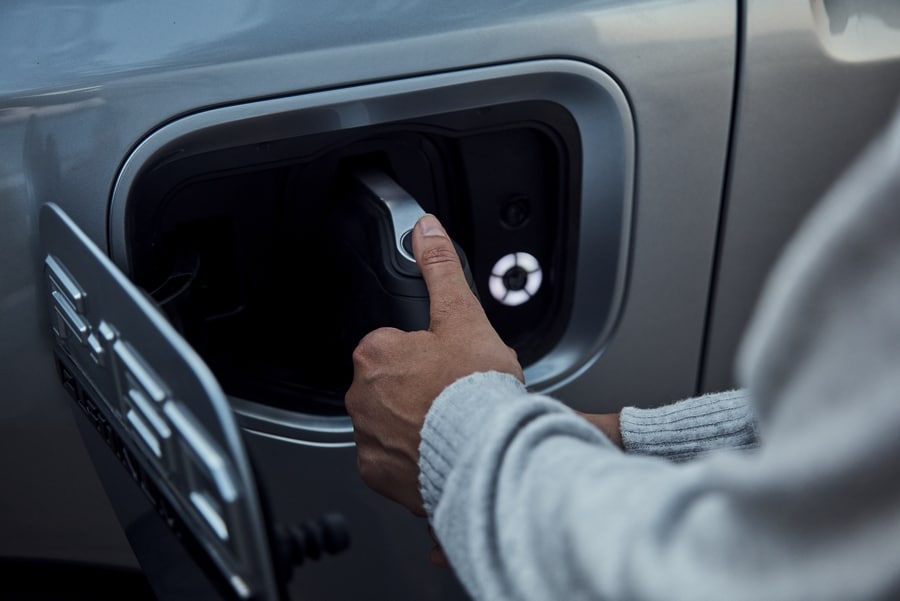 CHARGING AT HOME
Wake Up Recharged.  Using a standard wall outlet or the Wi-Fi and Bluetooth® -enabled 80 amp Ford Charge Station Pro you'll wake up in the morning knowing your F-150 Lightning™ is fully-charged and ready to go.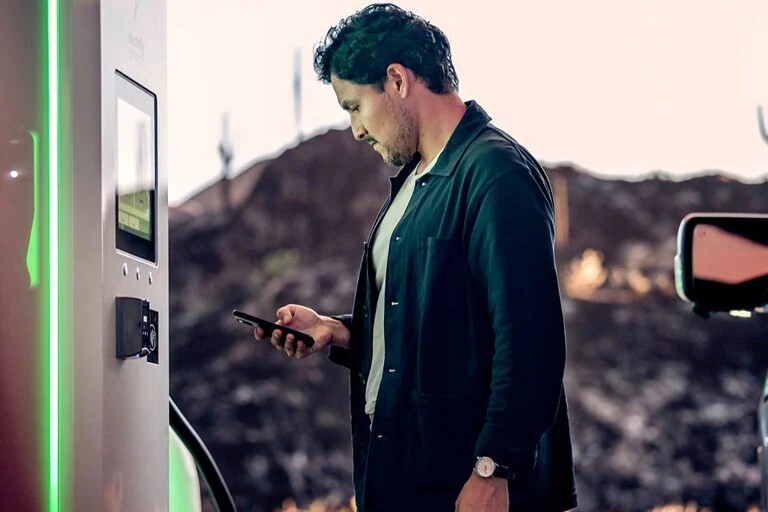 CHARGING ON-THE-GO
Blue Oval™  Charge Network. Gain access to more than 19,500 charging stations, the largest public charging network in North America. Plus you can locate, activate and pay for charging through your FordPass™ App or through Plug & Charge.
TO GO ELECTRIC, WE WENT TO WORK
We looked for every opportunity to make sure the F-150 Lightning is a tough, powerful and productive tool for our customers who need to get the job done. Because we're never satisfied, we make sure we're bringing the kind of innovative, powerful work tool F-150 customers have come to expect. And by going all-electric, you also get a truck that requires no gas and offers lower scheduled maintenance costs.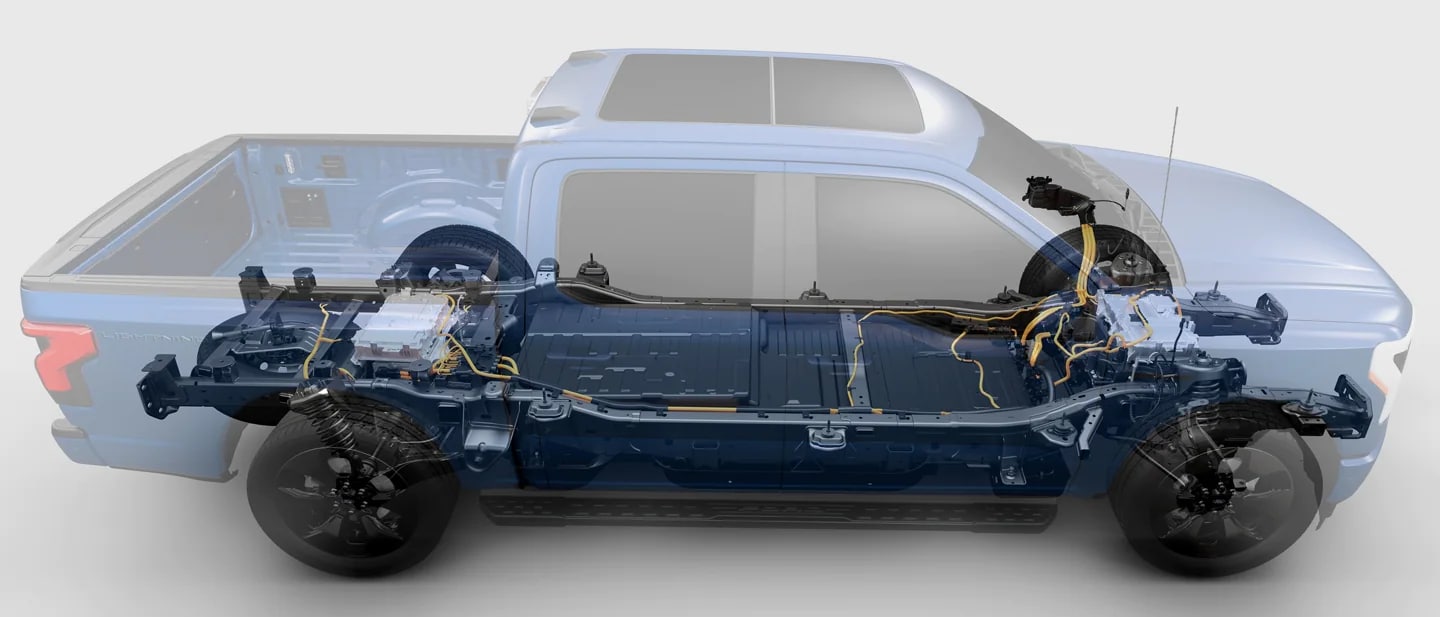 2 MOTORS, 4 WHEELS, PHENOMENAL TORQUE
Two inboard motors powering a standard 4x4 system means F-150 Lightning has faster acceleration than any F-150 yet, targeting 0-60 mph in the mid 4-second range.
LITHIUM-ION BATTERY PACK
We equipped the F-150 Lightning with an advanced lithium-ion battery pack that's protected by a unique exostructure which acts as a shield when off-roading. We also mounted it between the frame rails to make sure it doesn't occupy any interior volume or take away any bed space.
INDEPENDENT REAR SUSPENSION
The F-150 Lightning utilizes an independent rear suspension that helps minimize body roll and isolates road imperfections for a smooth ride and precise handling. Aluminum-alloy control arms help reduce unsprung mass. And you can be sure it's been torture-tested to live up to Built Ford Tough standards.
AVAILABLE SYNC 4A WITH 15.5-INCH PORTRAIT TOUCHSCREEN
SYNC® 4  Technology combines hardware and software that delivers features designed to keep you connected to the people, places and apps that matter most. SYNC 4A with the 15.5-inch portrait touchscreen and enhanced voice recognition is standard on LARIAT and Platinum models. It offers impressive features including voice access to your favorite apps, connected navigation, cloud-based connectivity and more.
ADVANCED TOWING & HAULING TECHNOLOGY
Work or recreation, we know you've come to rely on the ability of F-150 to be in it for the long haul. That's why we equipped the F-150 Lightning with smart technologies designed to make it easy to hook up your trailer and control it. Plus it has smart technologies that help keep you informed on what you are towing or hauling.