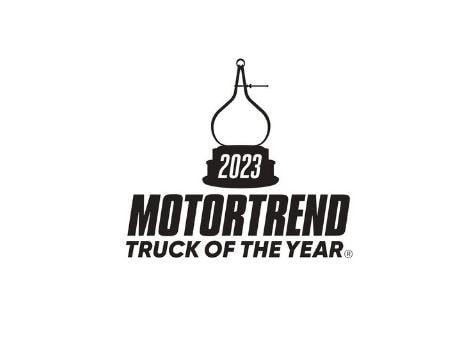 Another Big Award to Put in the Frunk
The 2023 F-150® Lightning® is the 2023 MotorTrend Truck of the Year®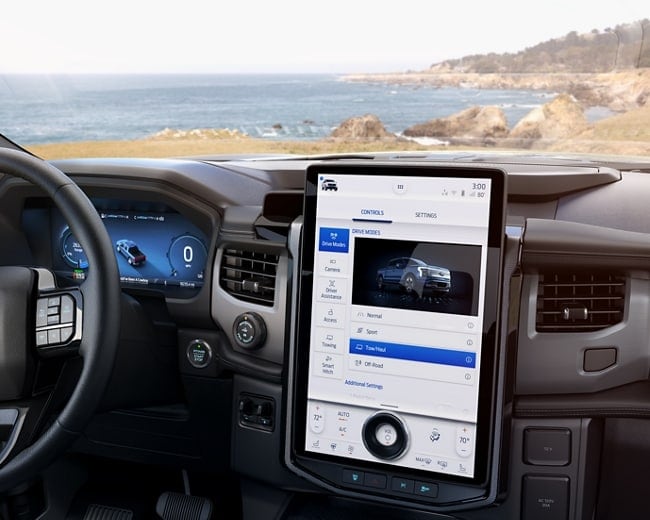 Smart Tech at Your Fingertips
The more you use the available SYNC® 4A, the more it gets to know your driving habits, common routes and more.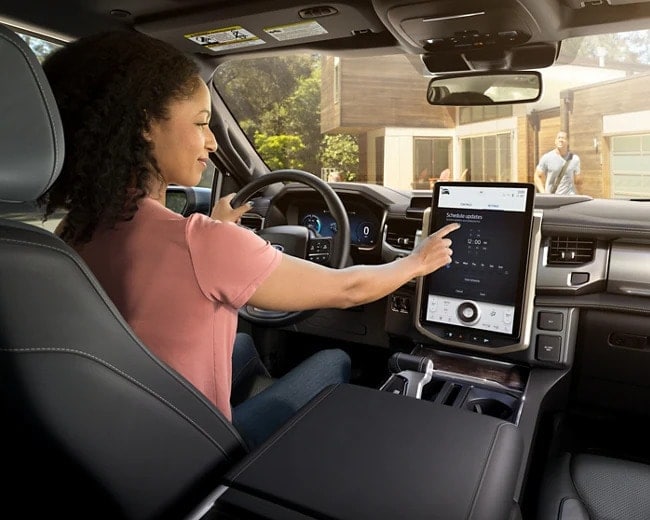 Easy Software Updates
Just like your phone, you can download Ford Power-Up software updates from anywhere there's a data connection.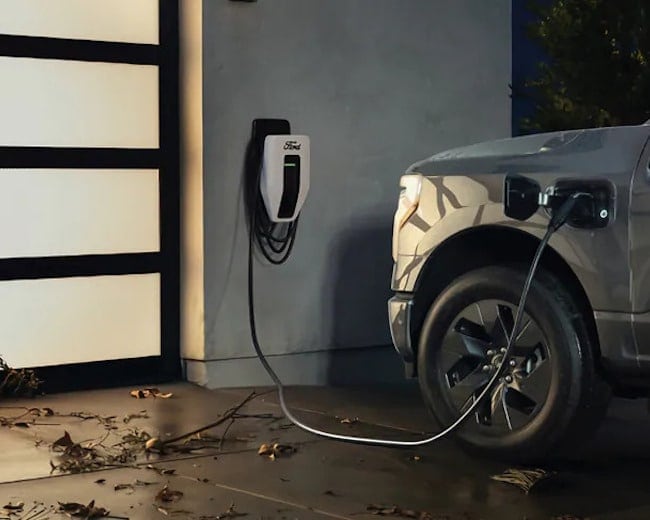 Intelligent Backup Power
With Intelligent Backup Power and Ford Charge Station Pro and an extended range battery - your F-150 Lightning can re-direct power to your properly equipped home for up to 3-days.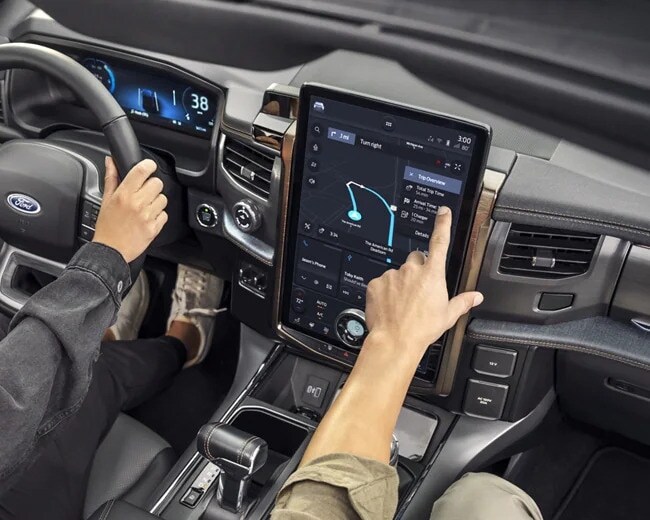 Power Your Trip
Plan routes, stops and track your charge right from your F-150 Lightning touchscreen with Ford Power My Trip.
ADVANCED TECHNOLOGY. POWERFUL PERFORMANCE.
Nearly instant torque. Seamless connectivity to software updates. A touchscreen larger than any currently offered on a full-size truck. This is an F-150® like you've never experienced.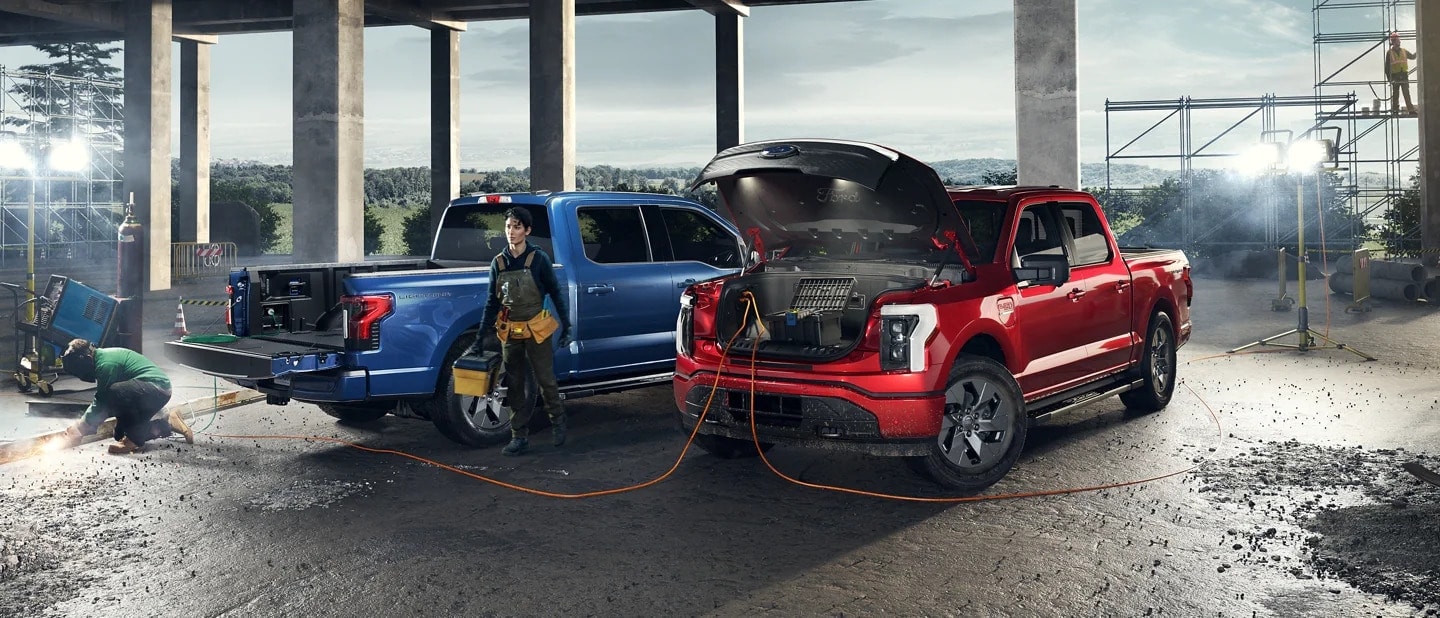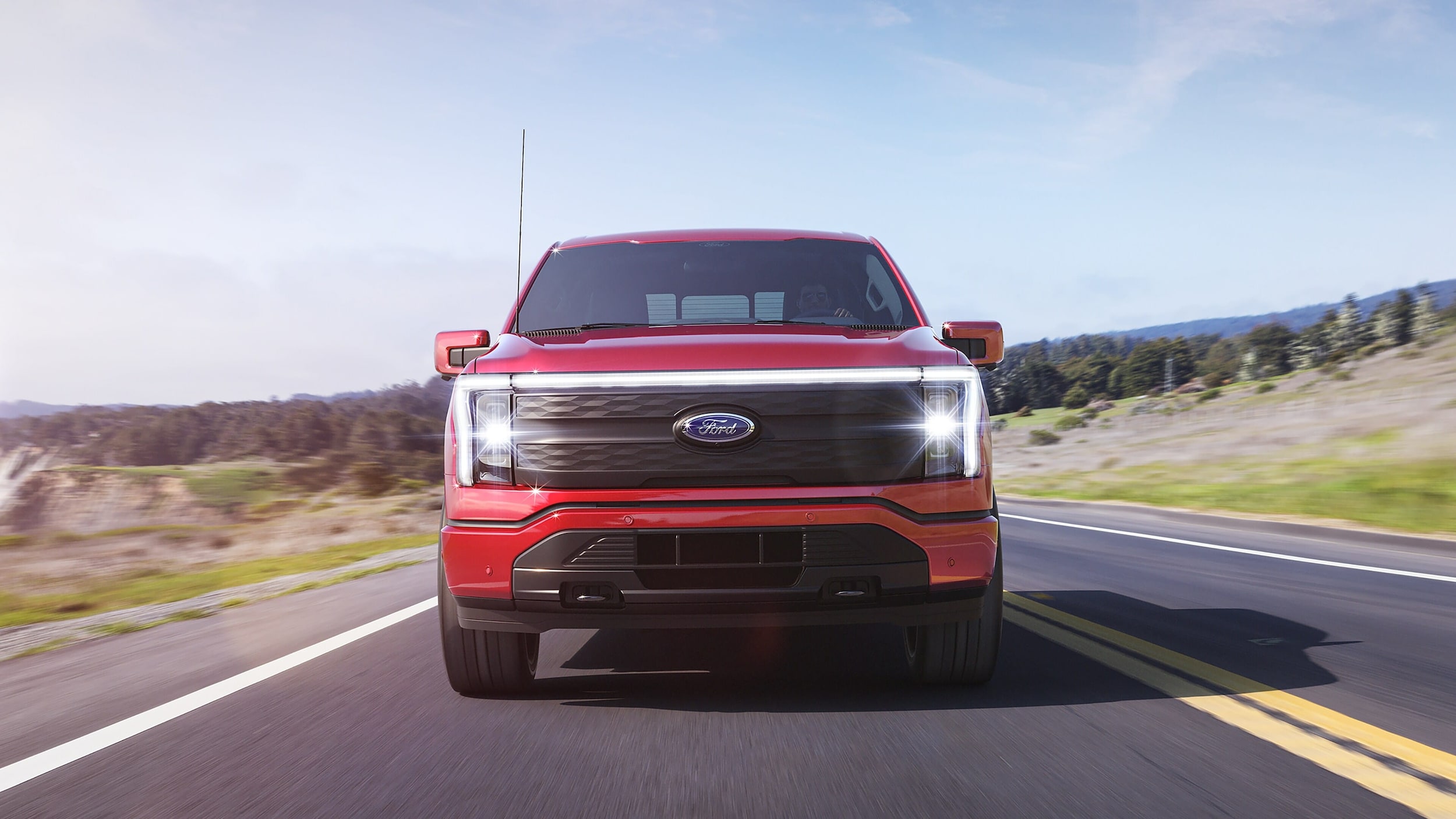 580 HORSES BORN TO RUN
The extended-range battery puts out 580 horsepower.† That's enough punch to make even a trip to the grocery store a thrill.
†Based on manufacturer testing using computer engineering simulations. Calculated via peak performance of the electric motor(s) at peak battery power. Your results may vary.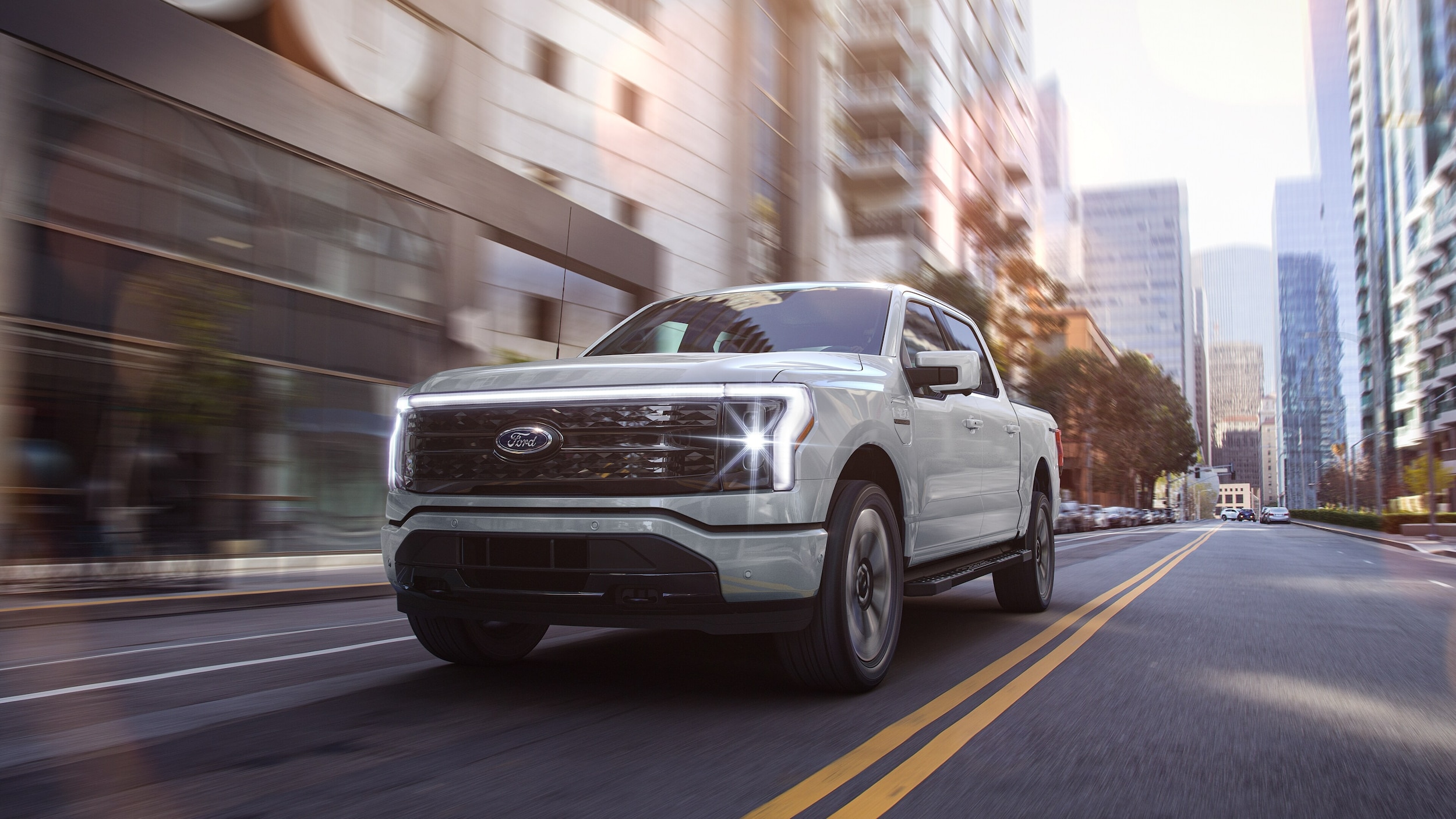 FASTEST ACCELERATING F-150 YET
Wick quick off the start, the 2023 Ford F-150® Lightning® with the Extended Range battery hits 60-mph in the sub 4 second range.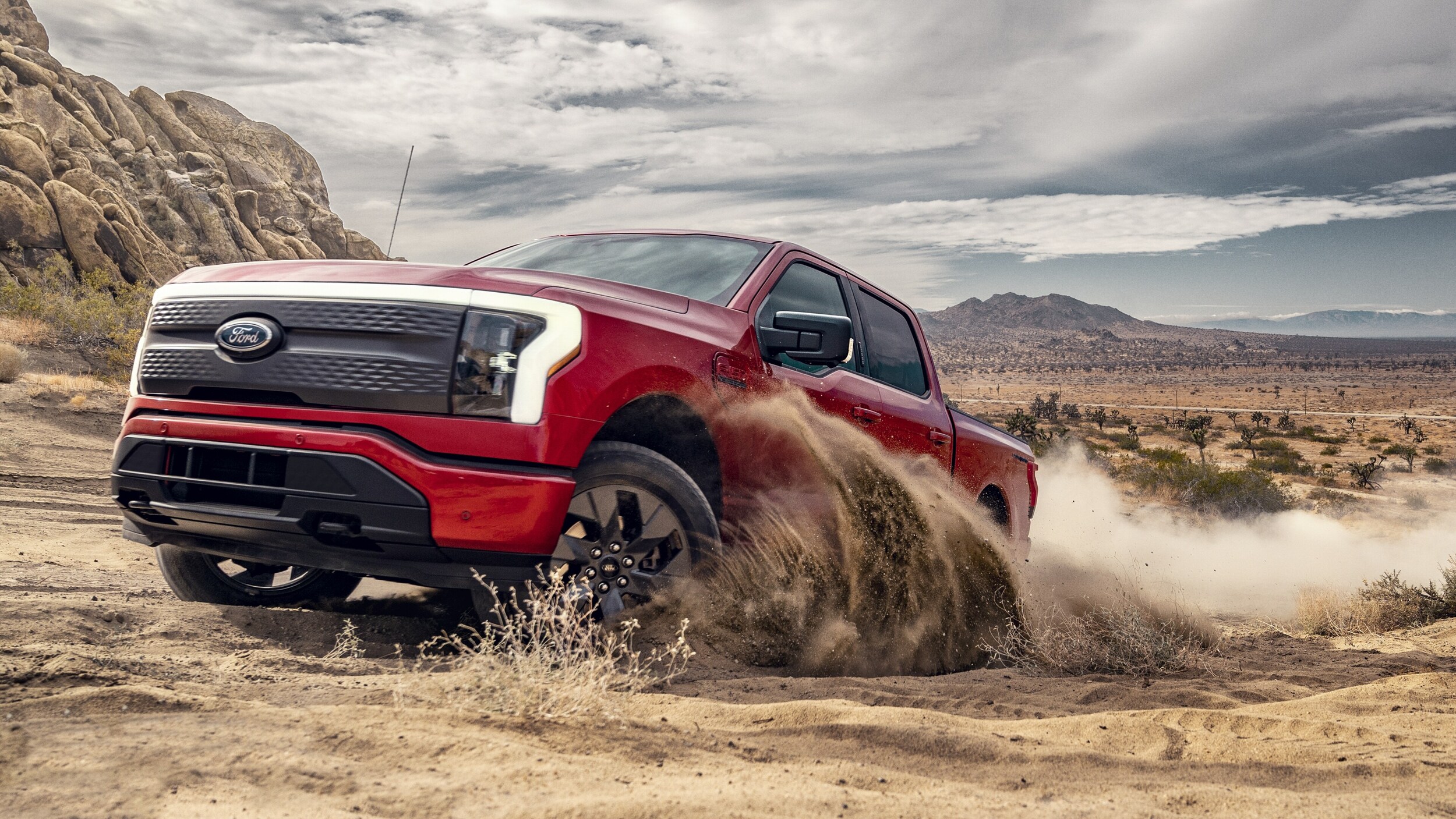 THE STRONG SILENT TYPE
People talk horsepower but drive torque-with 775 lb.-ft. of nearly instant torque, the 2023 Ford® Lightning® pick-up is ready to move.†
†Based on manufacturer testing using computer engineering simulations. Calculated via peak performance of the electric motor(s) at peak battery power. Your results may vary.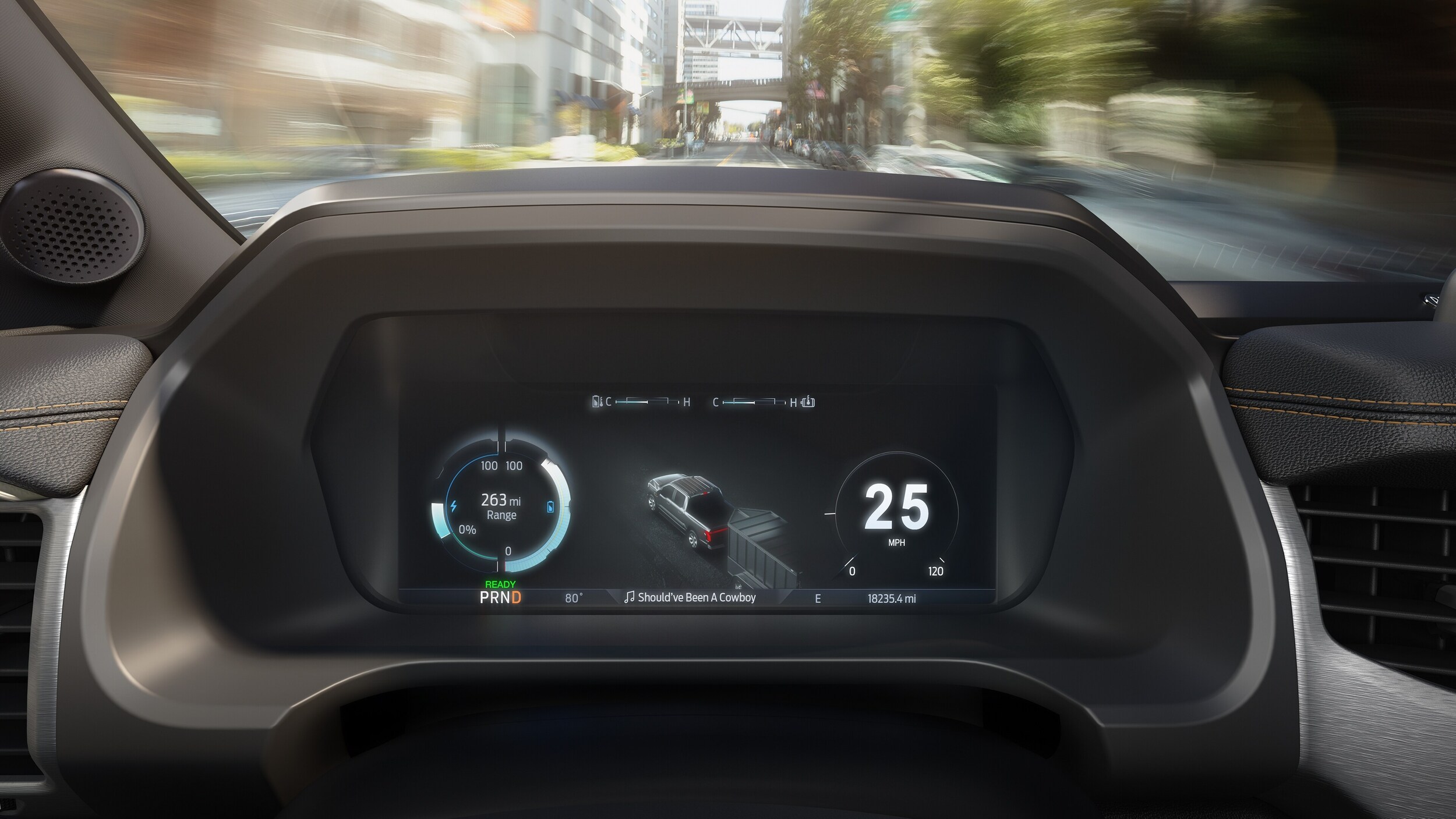 SELECTABLE DRIVE MODES
Optimize your F-150 Lightning®  performance over a variety of terrain, road conditions and usages. Each mode has its own distinct look displayed on the instrument cluster. That way you know at a glance which one you've selected - Normal, Sport, Tow Haul, and Off-Road.
ENHANCED PRO POWER ONBOARD
Just plug 'em in and let 'er rip. From the jobsite to the campsite, this convenient feature provides on-site, on-demand power for tools, electronics, appliances and other electric devices. *
*See owner's manual for important operating instructions.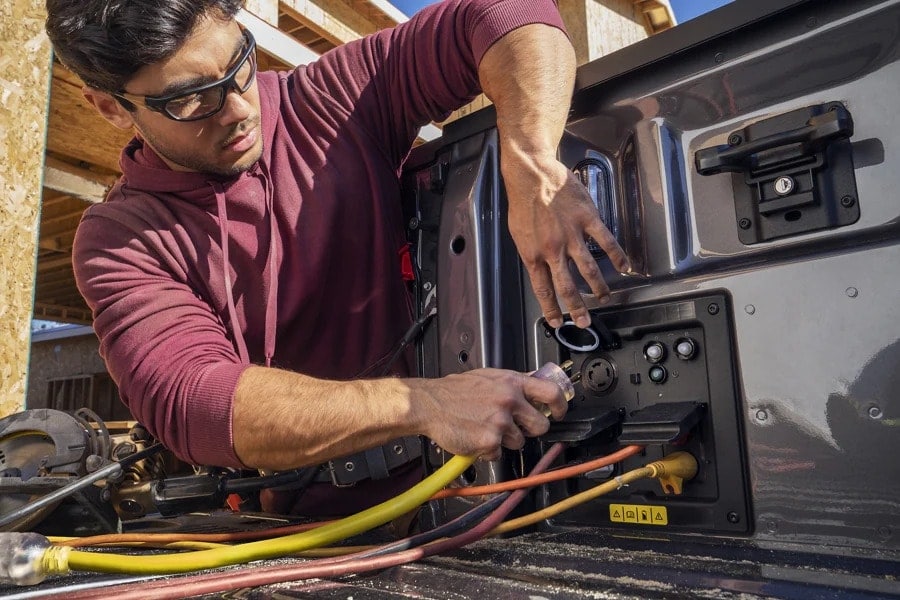 AVAILABLE 9.6 KW POWER
Be the talk of the tailgate. Pack along some conveniences camping. Plug-in a few power tools. With this much power your F-150® Lightning™ is up to the task.
*See owner's manual for important operating instructions.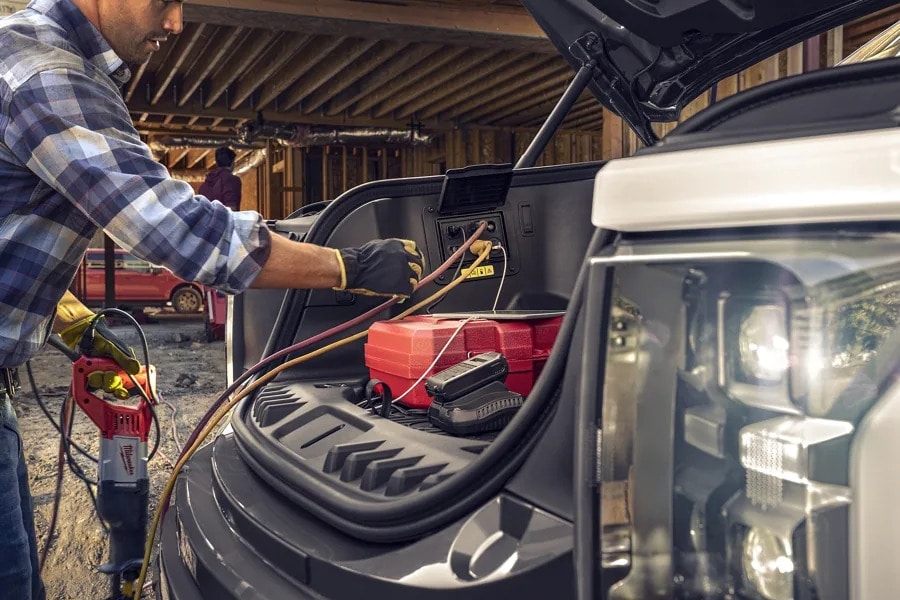 BUMPER-TO-BUMPER OF ADDED POWER
It offers 11 convenient power outlets. There are two 120 V outlets in the cab, four in the bed and four in the Mega Power Frunk, which also has a USB-C and USB-A. A 240 V outlet is available for the bed. *
*See owner's manual for important operating instructions.
WORKING FROM THE ROAD
Packed with intelligent features, F-150 Lightning® combines advanced digital technologies with proven engineering know-how to create a truck that's even smarter and more innovative.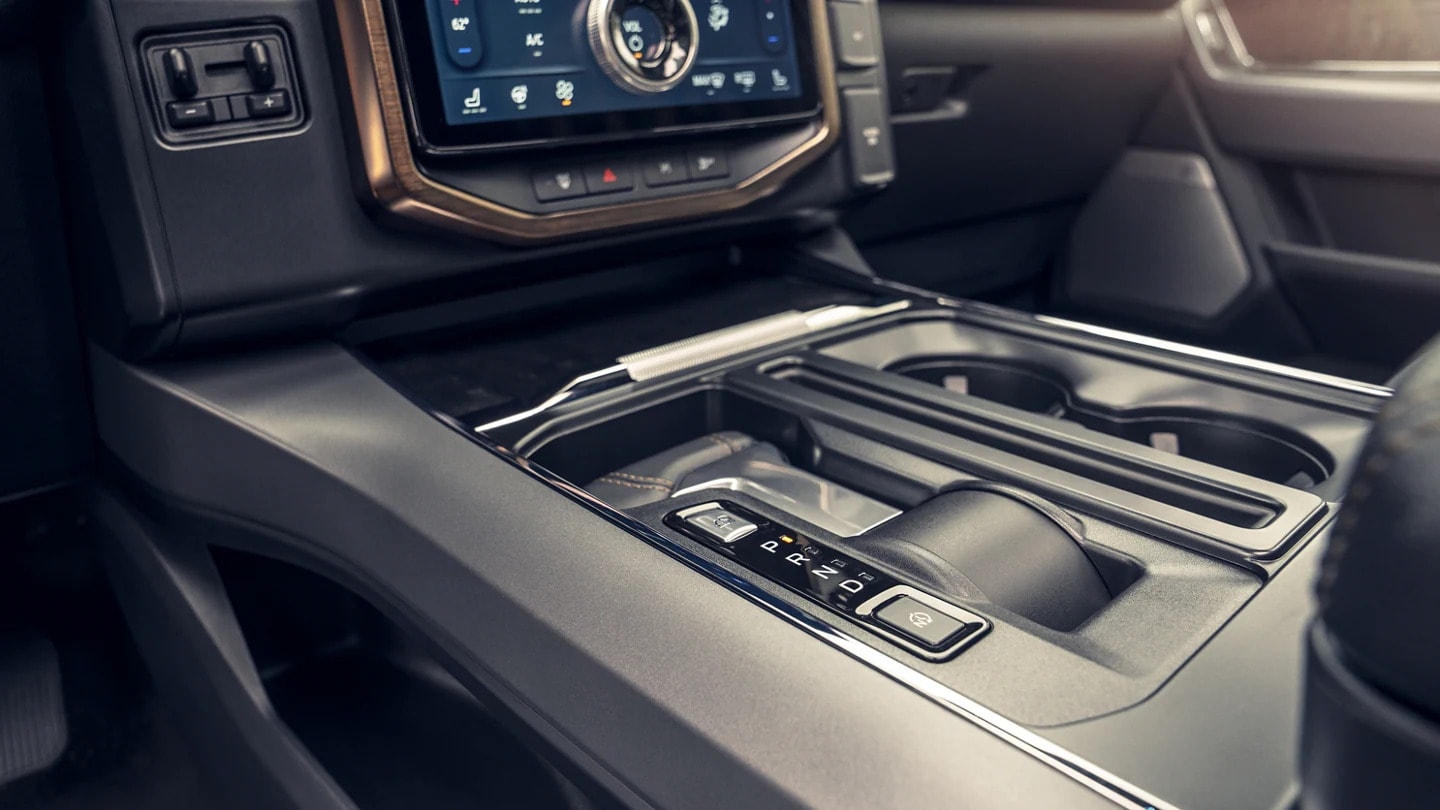 STOW-AWAY SHIFTER FOR INTERIOR WORK SURFACE
F-150 Lightning™ has tough in its bones. Strong and rigid, built with a fully-boxed frame and high-strength steel with large cross-sections.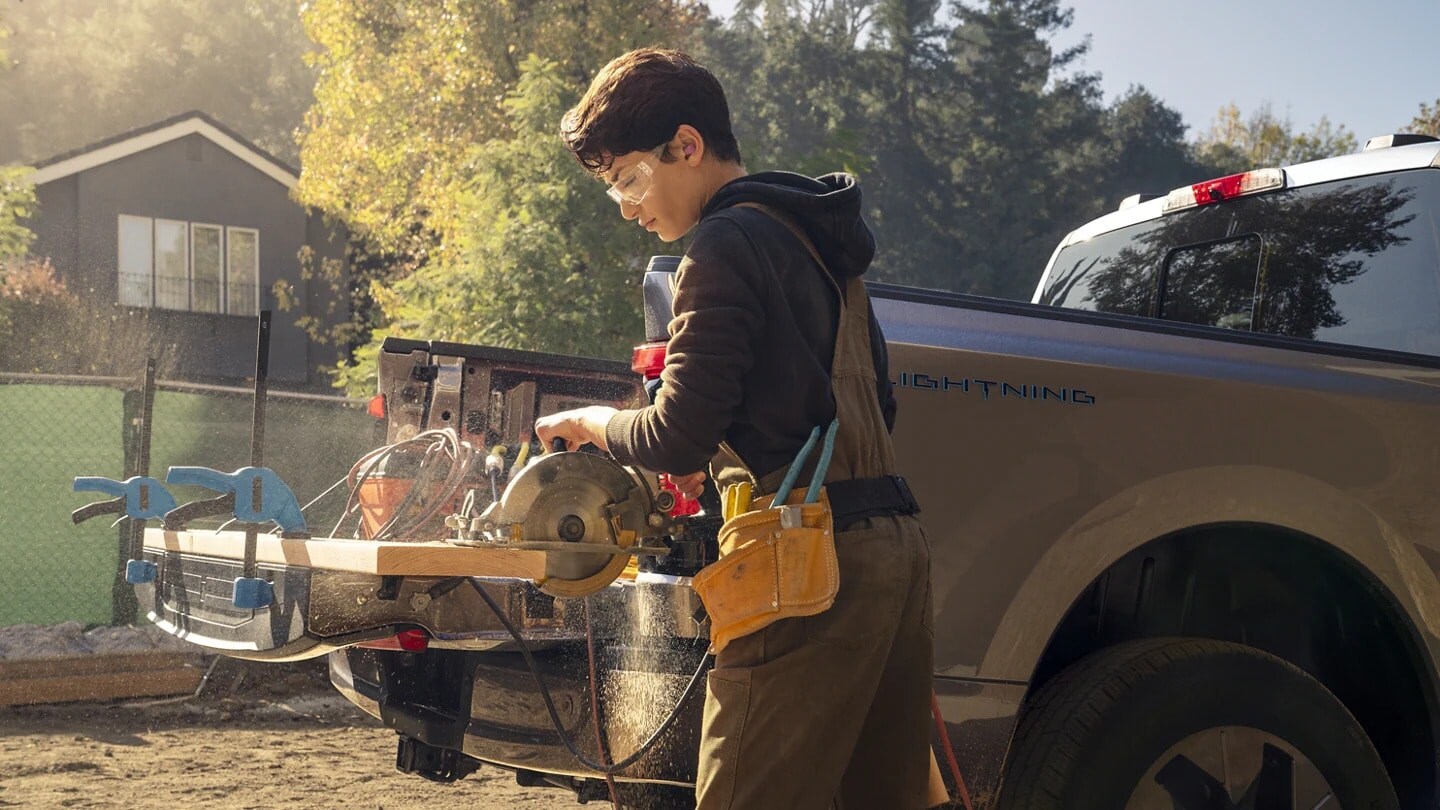 AVAILABLE TAILGATE WORK SURFACE
It's your workbench on wheels. The improved non-slip surface helps grip cargo. Two concealed clamp pockets allow you to clamp timber or tools to the tailgate. Embedded rulers, two tie-down/bottle openers and cup holders help to make work a whole lot easier.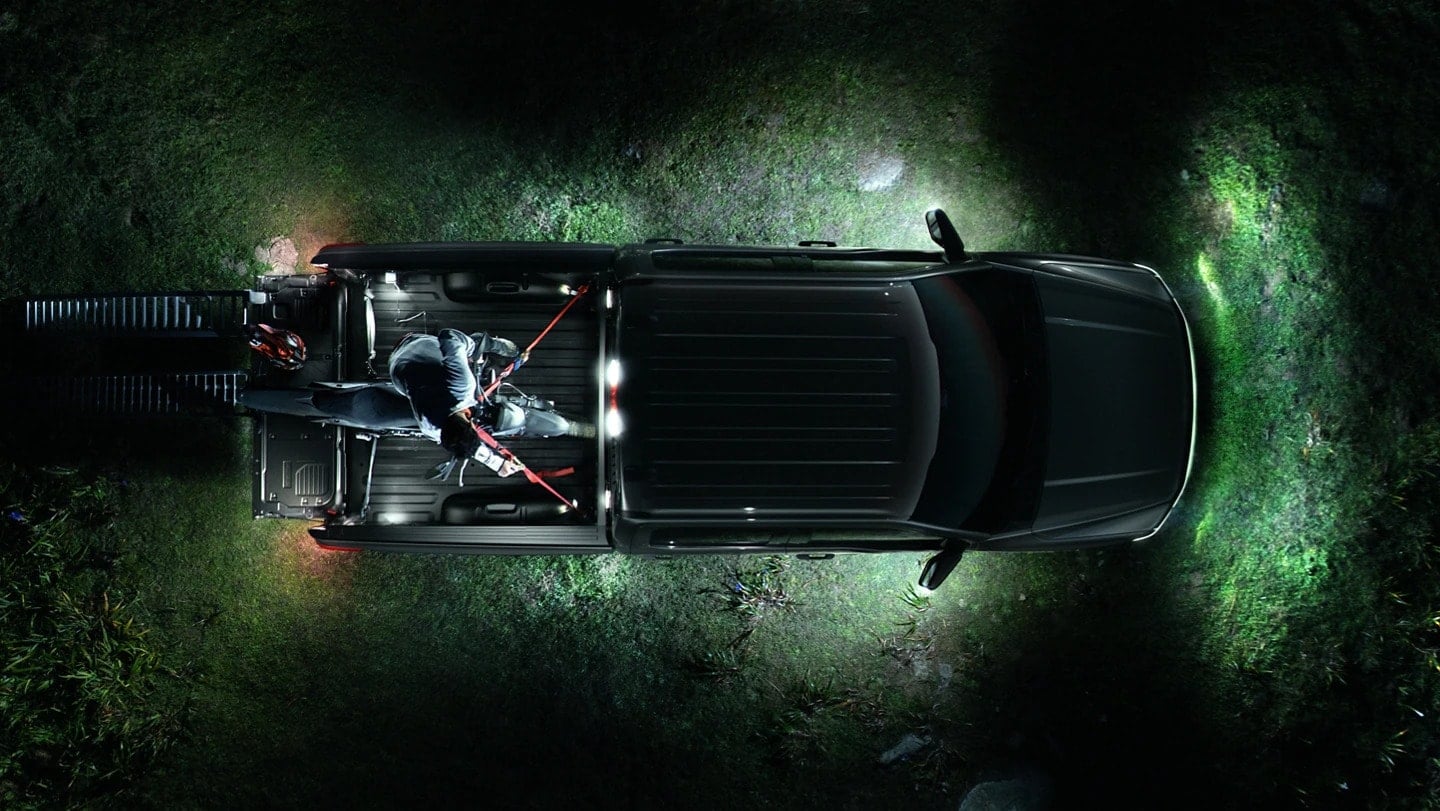 ZONE LIGHTING
Want to keep working or playing into the night? Zone Lighting illuminates 360 degrees around your truck. Choose them all or select a few. Use the integrated touchscreen or FordPass® App to control each zone remotely.
ADVANCED TECH LIES AT THE HEART
But that means more than just the latest goodies. It's cloud-based connectivity, including software updates downloaded. It's disruptive innovation that results in breakthrough solutions.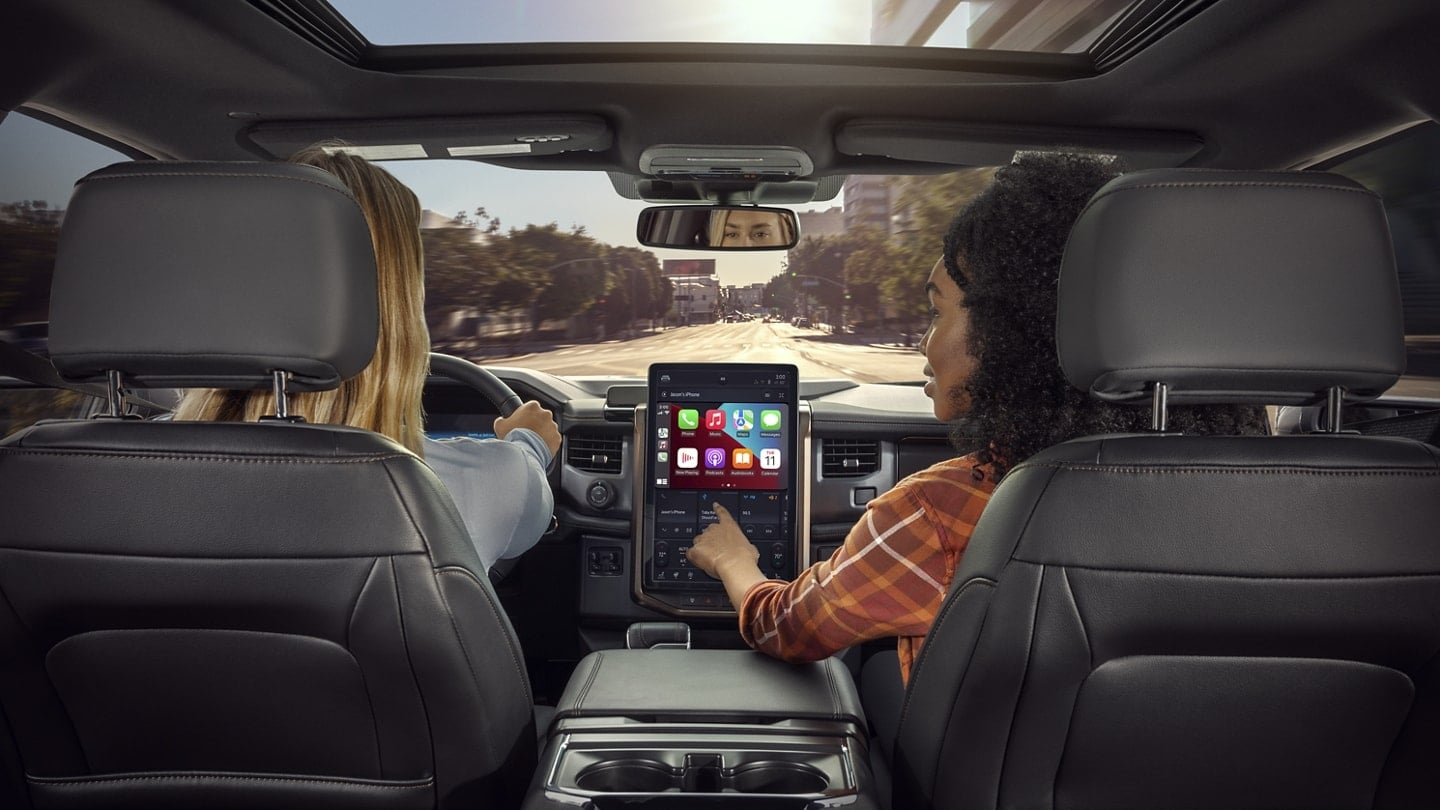 APPLE CARPLAY® AND ANDROID AUTO™
Are you an Apple or an Android? No matter. F-150 Lightning® accommodates both through its own communication and infotainment system.†
†Requires phone with active data service and compatible software. SYNC 3/SYNC 4 does not control 3rd party products while in use. 3rd Parties are solely responsible for their respective functionality.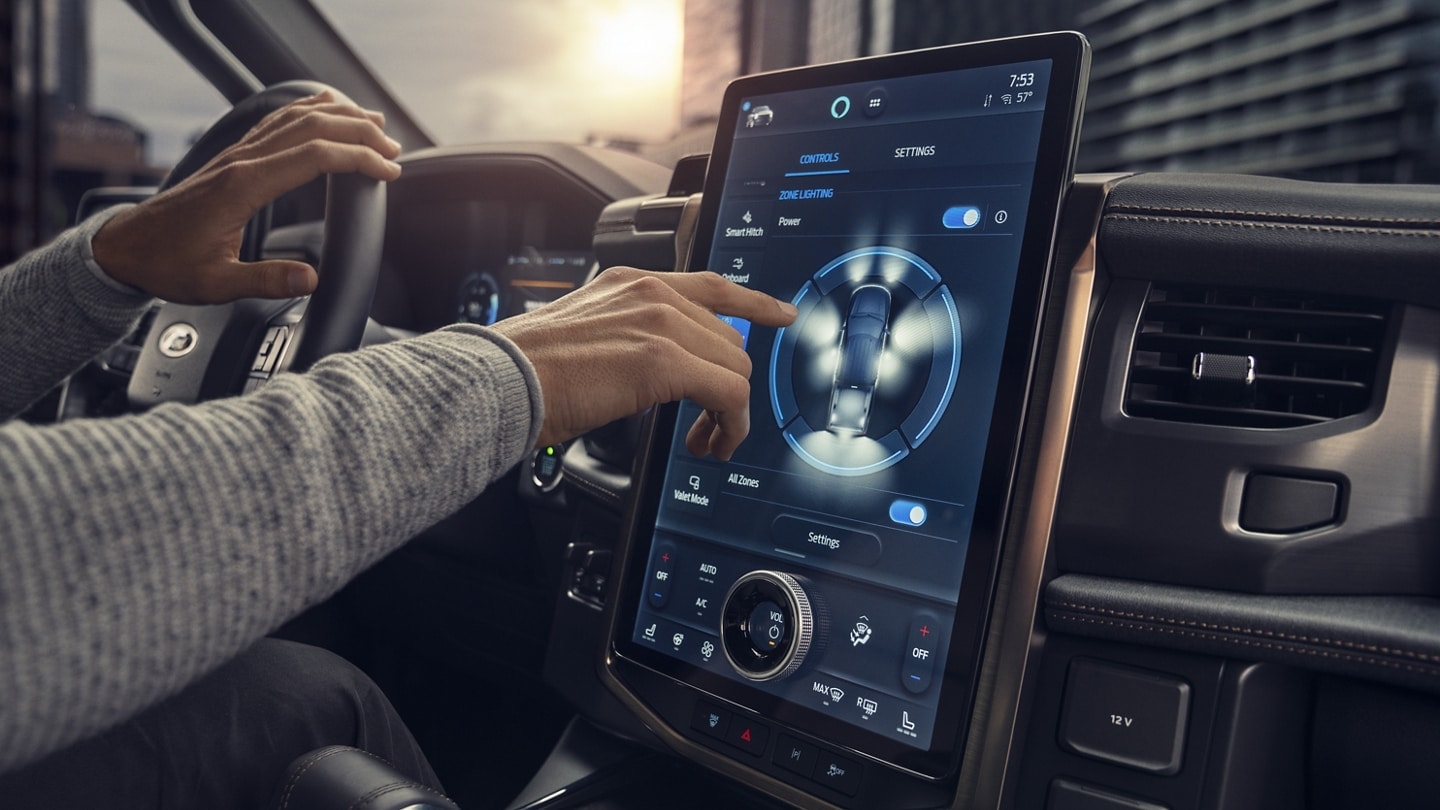 AVAILABLE ZONE LIGHTING
Set your seats, mirrors, radio, navigation, and driver-assist system settings the way you like. When you get back behind the wheel, Lightning® remembers at the touch of a button. You can also link a remote control and mobile device to your profile to recall it.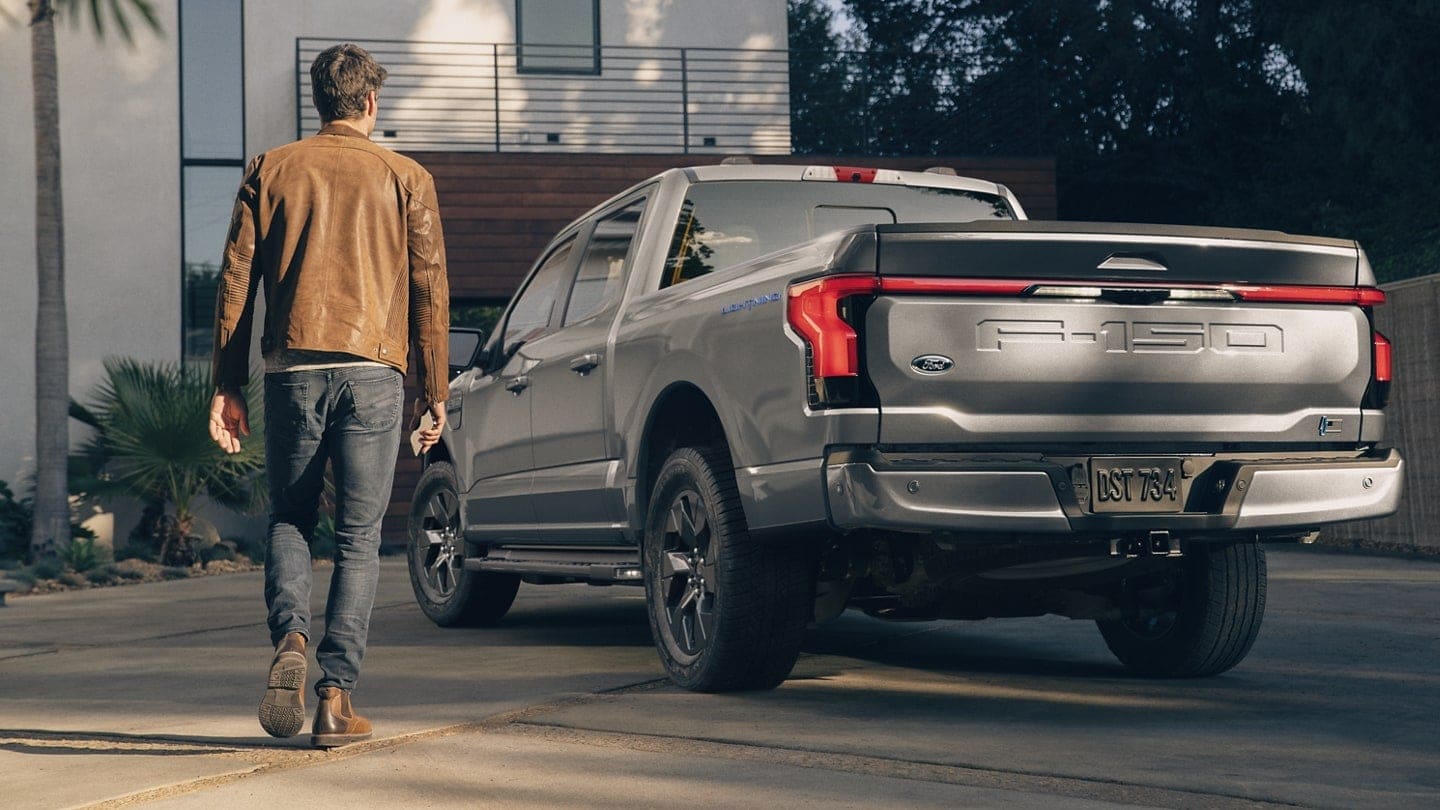 PHONE AS A KEY
With the available Phone as a Key feature, * you can access, start and drive your F-150 Lightning® without taking your phone out of your pocket or using a traditional key fob. Create up to 4 profiles per vehicle. Allows for remote start/stop, lock/unlock, global windows up/down. Frunk open/close, and many more features.
*Available on select vehicles. Requires feature activation. Not compatible with all mobile phones.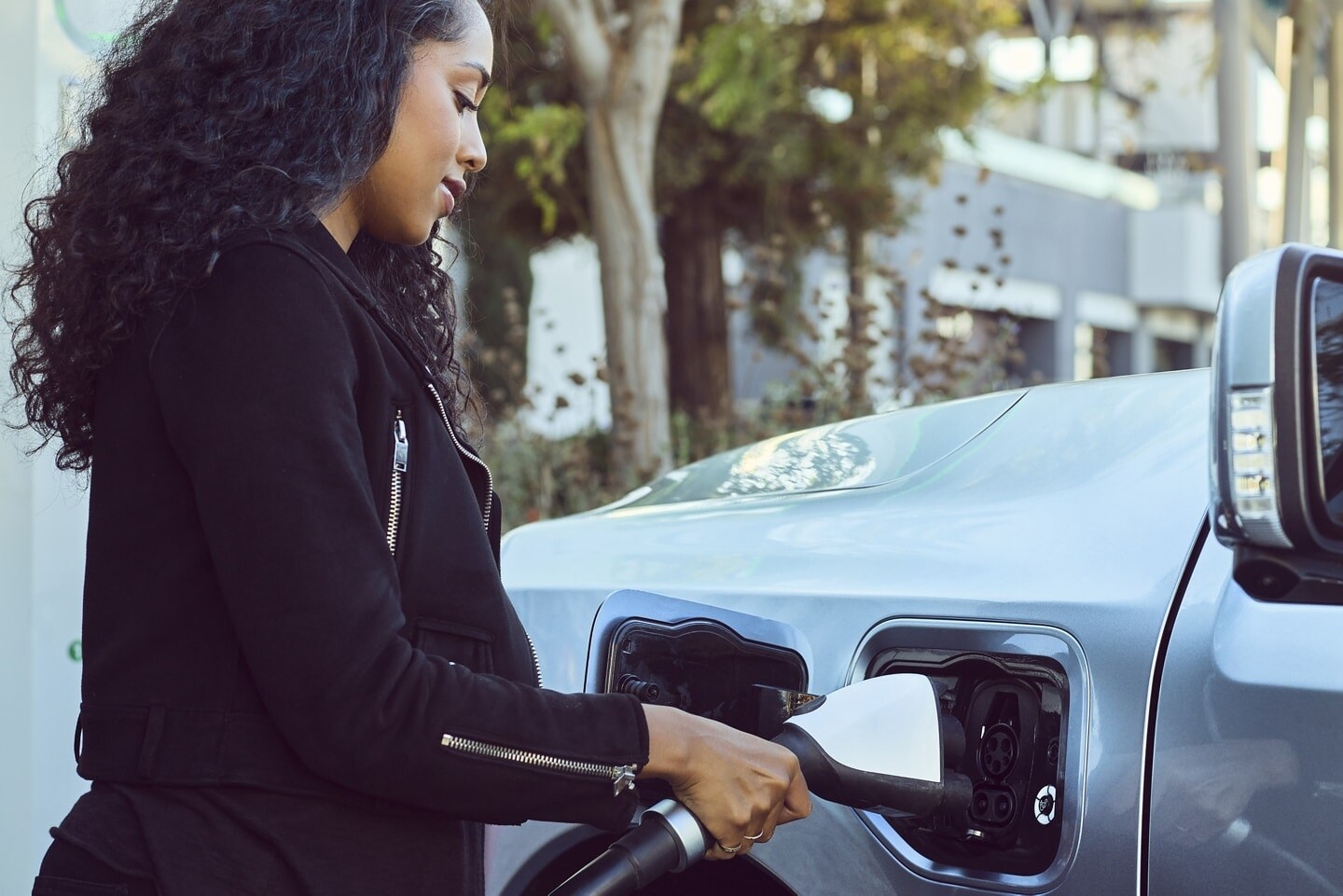 WE'VE GOT CHARGING COVERED
Backed by the largest public charging network in North America,† we offer a variety of charging solutions to meet all your charging needs. Ford Charging Station Pro is included with the extended-range battery. This allows a peak charging power of 19.2 kW enabled by the battery's dual onboard chargers meaning a full charge overnight. Like all Ford electric vehicles, every series has an available 30-amp Ford Mobile Power cord, allowing you to charge from a traditional 120V or a 240V NEMA 14-50 outlet. No special stations needed.
† Based on original equipment manufacturers(OEM)/automotive manufacturers that sell all-electric vehicles and have active charging networks. Department of Energy data used. FordPass, compatible with select smartphone platforms, is available via a download. Message and data rates may apply.
How can we help?
* Indicates a required field